Electrotherapy specialists in Mallorca
Electrotherapy in Mallorca has established itself as a very effective therapeutic method to treat a wide variety of medical conditions. This discipline uses controlled electrical currents to stimulate the body's tissues to promote healing.
At Estudio Aequus we are specialists in this branch of medicine and we offer personalized solutions to all our patients. We thoroughly evaluate the needs of each patient, thus determining how we will end up treating them.
In which cases is electrotherapy treatment recommended?
We recommend electrotherapy in Mallorca to treat a variety of conditions including:
Chronic pain: it generates a great relief to those who suffer from this type of condition, since it blocks the signals that transmit pain and promotes the release of endorphins, natural substances that act as analgesics in the body.
Sports injuries: our specialists use specific techniques to accelerate recovery from injuries such as sprains, muscle discomfort caused by strains and tendonitis, improving blood circulation and reducing inflammation.
Rehabilitation: Electrotherapy in Palma de Mallorca is widely used in rehabilitation programs to restore muscle function, improve mobility and accelerate tissue healing after surgery or injury.
Neuromuscular disorders: patients with neuromuscular conditions such as cerebral palsy, stroke or multiple sclerosis may benefit from electrotherapy to improve muscle strength and motor function.
Why choose Estudio Aequus as your electrotherapy clinic in Mallorca?
At Estudio Aequus we stand out for offering great advantages to all those who choose us. If you also decide to place your trust in us as your electrotherapy center in Mallorca, you will be guaranteed the following:
Professional care: our specialists have a good academic background and extensive experience in the field. They are committed to give the best attention and care to each of our patients.
Personalized approach: We know that each person is unique and requires an approach tailored to his or her particular needs. That's why we conduct a thorough assessment, taking into account your medical history, symptoms and treatment goals. With this information, we design a specific and effective plan.
State-of-the-art technology: in our electrotherapy clinic in Palma de Mallorca, we have the latest generation technological equipment to carry out the treatments. These are advanced, safe and guarantee precision and effectiveness in each session.
Friendly and professional atmosphere: the well-being and comfort of patients are a priority. When you visit us at our electrotherapy center, you will enjoy a welcoming and professional atmosphere.
Complementary treatments: we combine electrotherapy with other complementary therapies, such as manual therapy, physiotherapy and osteopathy. This union is perfect to provide greater effectiveness.
If you are looking for an electrotherapy clinic in Mallorca, Estudio Aequus is your best option. You will receive the best attention and results in your recovery process. Do not hesitate to contact us and take the first step towards a life free of pain and full of wellness, we are waiting for you!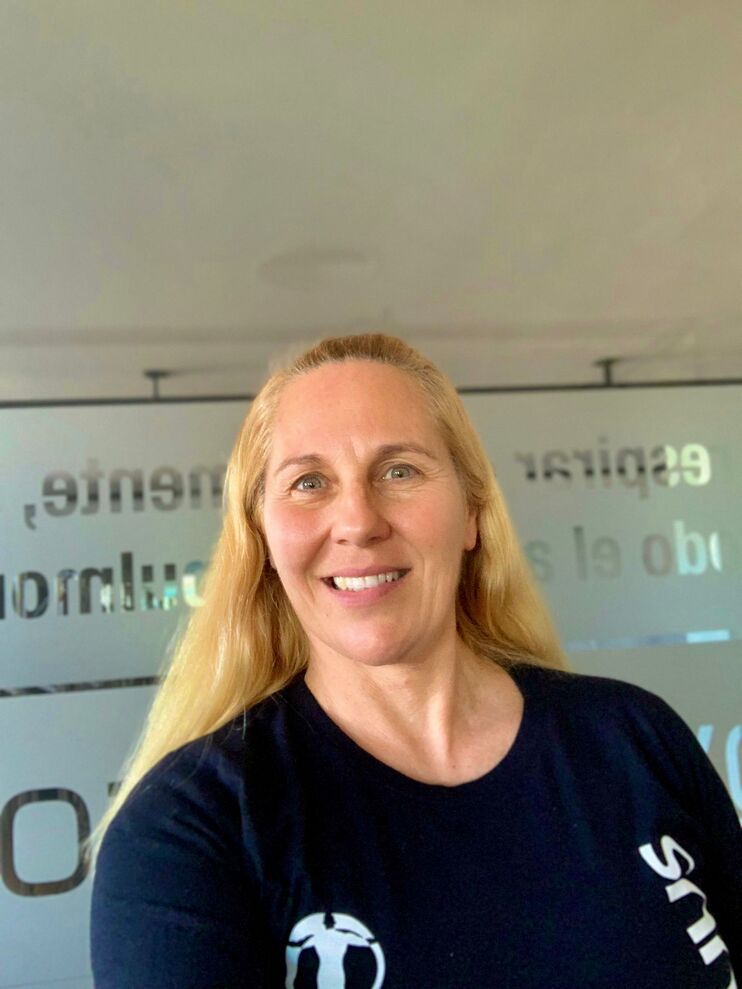 • Licenciada en educación física INEF por la Universidad de Lleida.
• Maestría en aerobic.
• Maestría en Fitness.
• Maestría en gimnasia rítmica y deportiva.
• Instructor BTS de Body Balance y Body Pump.
• Tonificación, Step y Aerobic de Fitness Pentatlón.
• Instructor de ciclismo Indoor y Tot Cycling.